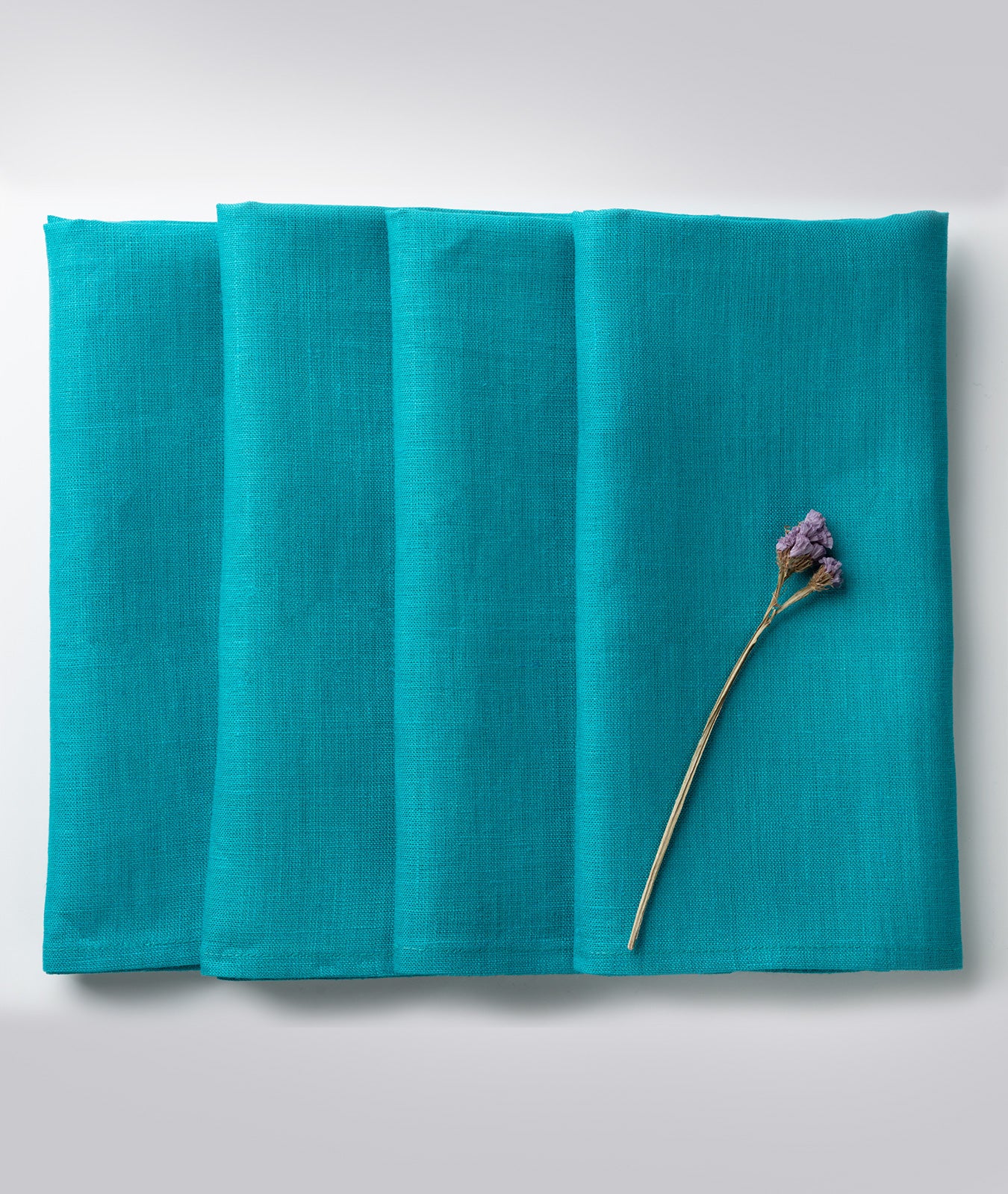 Linen Dinner Napkin Teal Blue 18"- Hemmed
Set of 4 Napkins, Size - 18 x 18 Inch
LINEN DINNER NAPKINS HANDCRAFTED BY ARTISANS: Each artisan is specially trained to deliver superior quality linen dinner napkin perfect for every season - Spring, Summer, Fall and Winter.
CERTIFIED 100% EUROPEAN FLAX: Our handcrafted dinner napkins are made only from 100% EUROPEAN FLAX (grown in Belgium, France, and the Netherlands) certified by BUREAU VERITAS, the world's leading quality certification agency.
GREAT GIFT CHOICE: Gift your loved ones a blend of quality and sustainability with our 100% pure linen dinner napkins packaged in sustainable handcrafted paper.
SPONSOR A GIRL CHILD'S EDUCATION: Our D'MOKSHA CARES PROGRAM contributes to a girl child's education in India with every purchase. YOU CAN KNOW HER AND TRACK HER PROGRESS FOR A YEAR.
Eco D'Moksha

Sustainability is at the heart of everything that we do at D'Moksha Homes. We use the most sustainable fabrics like linen, hemp, and lyocell that grow naturally. Greater use of these fabrics helps reduce the dependency on cotton and polyester, which are extremely water and chemical-intensive.
· Our weaving partners are primarily solar-powered, matching the global standards set by Bureau Veritas.
· We design premium packaging that can be reused for other storage.
· D'Moksha Homes and all our partners have a strict "no child labor" policy.

D'Moksha Cares

WITH EVERY PURCHASE A CONTRIBUTION IS MADE TO EDUCATE A GIRL CHILD.
In our unique and first-of-its-kind D'Moksha Cares program, each shopper is given an option to know the girl child towards whom her purchase is contributed. Details of the same are made available to you in the package delivered.
Zero Waste

Our zero waste policy means that the leftover fabric cuttings from our factory are sent over to women who can't step out of their homes for work. These women use the leftover fabrics to create placemats and doilies, thereby earning an income from home.