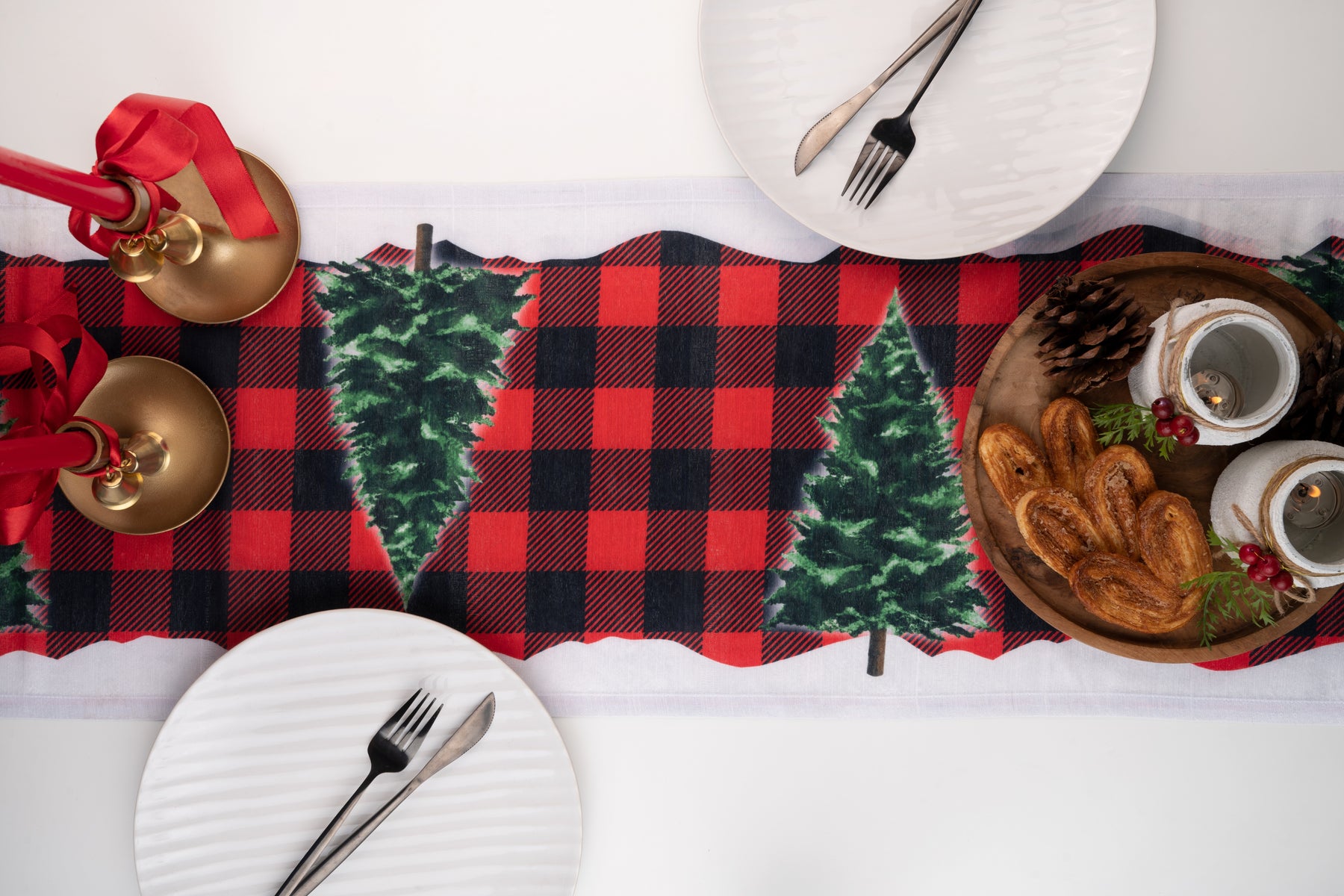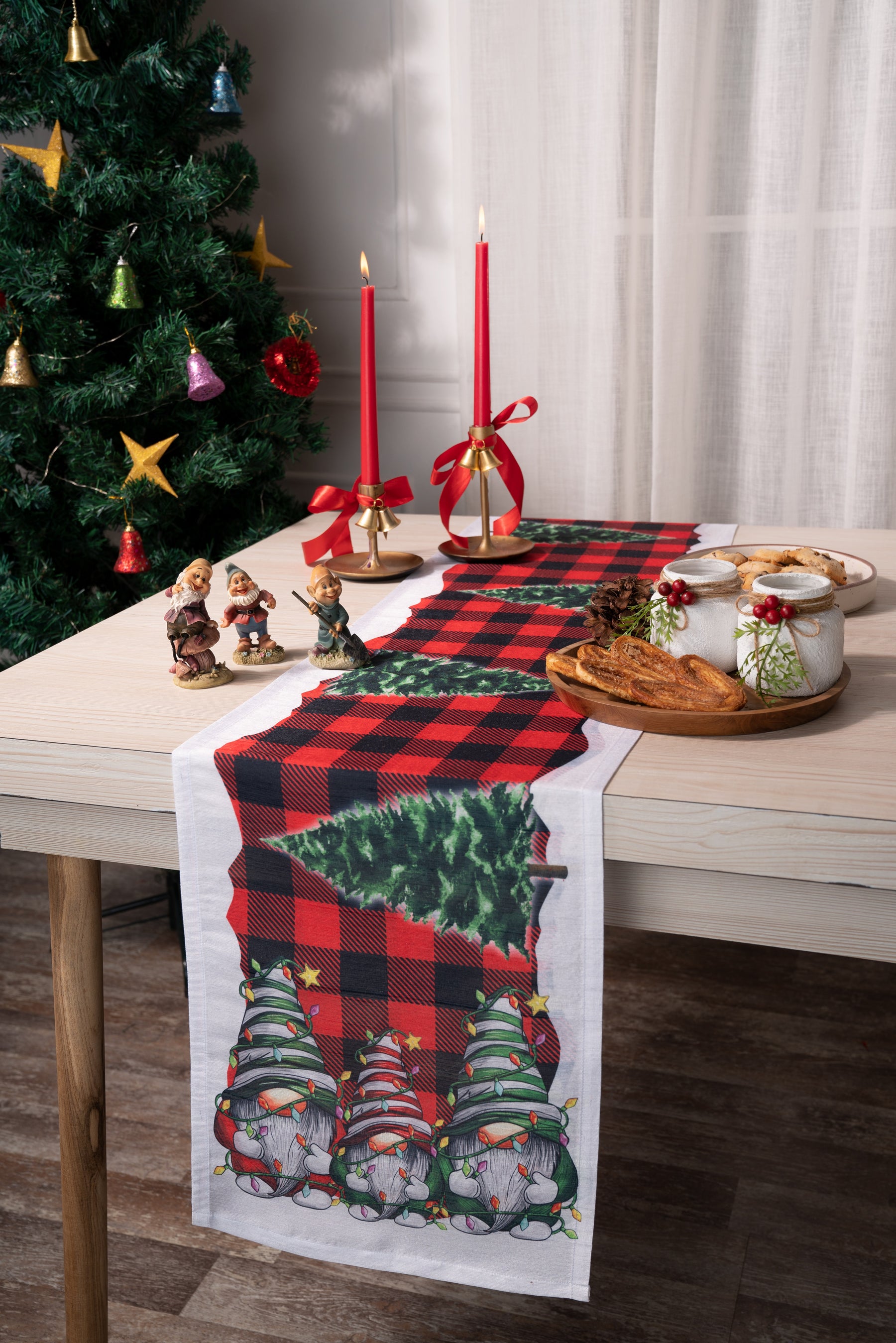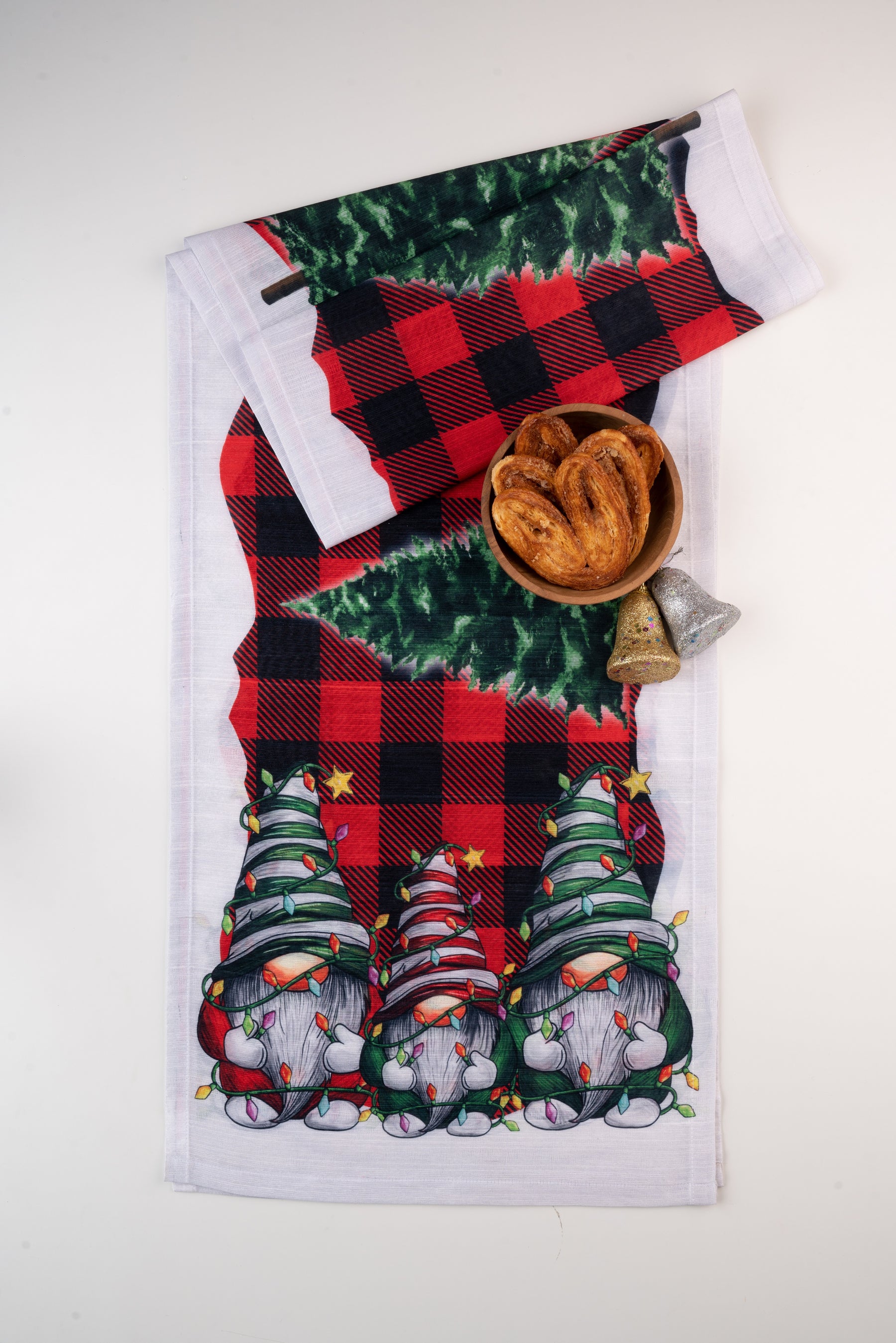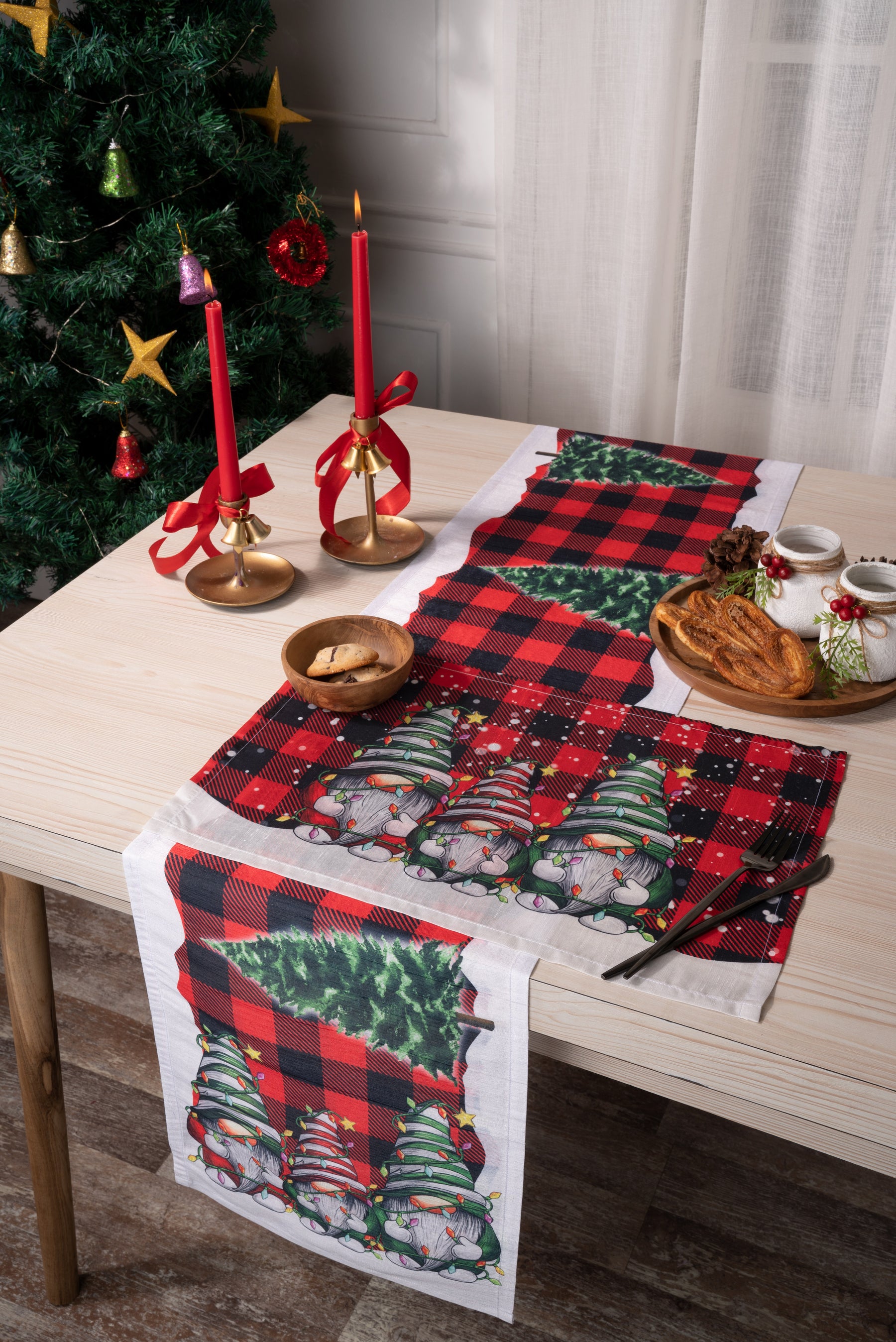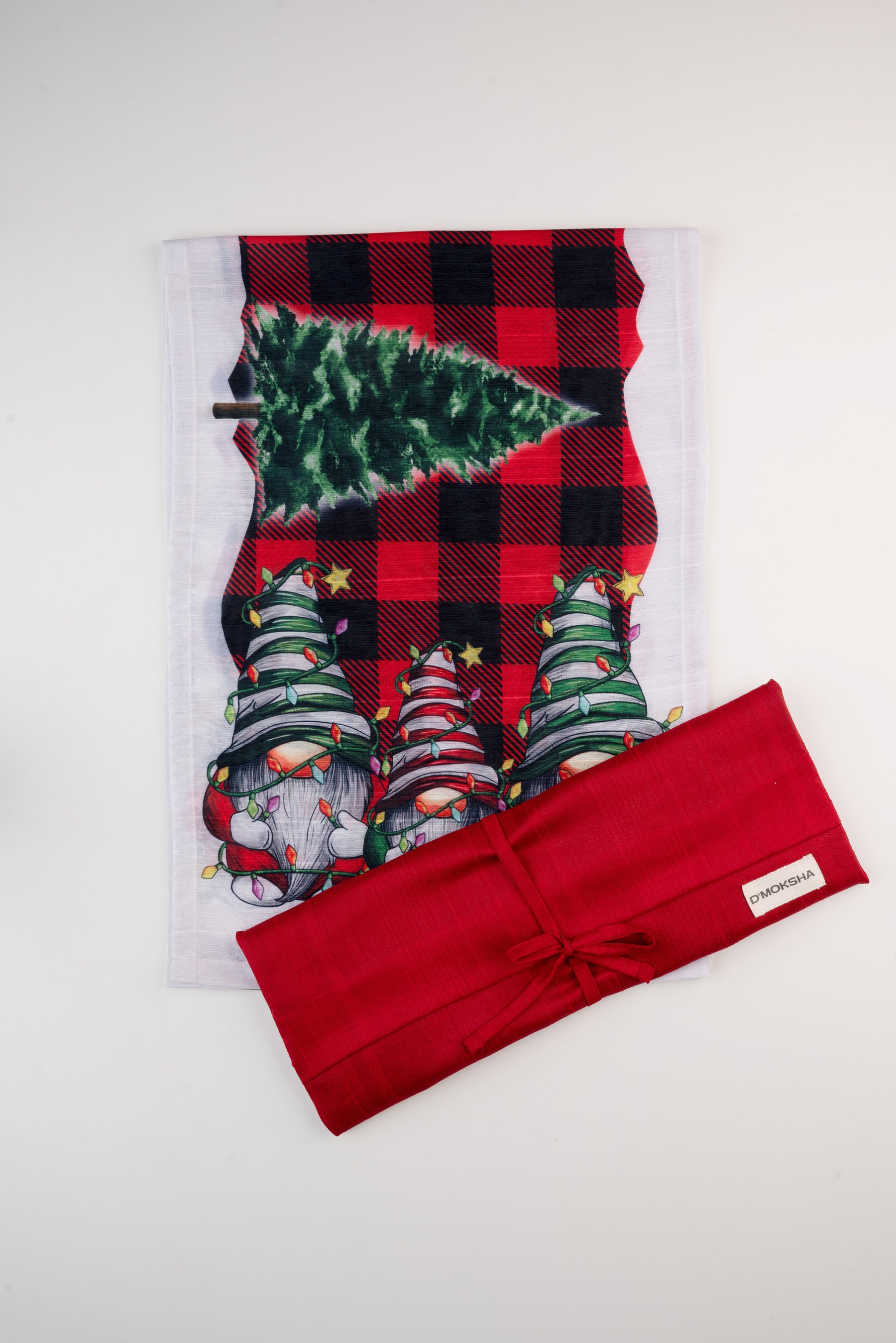 Christmas Print Gnomes Plaid Recycled Fabric Table Runner
GIFT FRIENDLY RED BAG PACKAGING: Delivered in a beautifully packaged, luxurious raw silk look RED BAG making it great for gifting or personal storage use. It's the perfect choice to enhance your seasonal decor or to share as a meaningful gift with friends, family, and neighbors
SOPHISTICATED FESTIVE TABLE DECOR:

 

This Christmas, indulge in the grandeur of the season while making an environmentally responsible choice. Crafted from recycled materials, our silk-look fabric adds a touch of sustainable luxury to your festive decor, reflecting your ethical commitment to the planet.
WHIMSY GNOMES CHRISTMAS TABLE RUNNER: Gnomes are often known for their adorable, whimsical, and charming qualities, making them delightful additions that enhance the celebratory atmosphere. Our plaid pattern gnome's printed table runner infuses a whimsical flair & joyful essence into your dining experiences.
WIDE VARIETY OF SIZES:

 

We provide exquisitely designed table runners in various dimensions, guaranteeing they seamlessly enhance your dining surfaces., ensuring you find the perfect fit for your specific requirements.
MAKE MERRY AT CHRISTMAS WITH A WIDE RANGE OF PRINTS:

 

Embrace the spirit of the season with these delightful Christmas themed runners, adorned with whimsical snowflakes, jolly snowmen, majestic reindeer, and elegant pine trees. Bring a touch of Christmas magic to your holiday dinners, ambiance, and festive breakfasts.  
SPONSOR A GIRL CHILD'S EDUCATION:

 

Our D'MOKSHA CARES PROGRAM contributes to a girl child's education in India with every purchase. YOU CAN KNOW HER AND TRACK HER PROGRESS FOR A YEAR.
Eco D'Moksha

Sustainability is at the heart of everything that we do at D'Moksha Homes. We use the most sustainable fabrics like linen, hemp, and lyocell that grow naturally. Greater use of these fabrics helps reduce the dependency on cotton and polyester, which are extremely water and chemical-intensive.
· Our weaving partners are primarily solar-powered, matching the global standards set by Bureau Veritas.
· We design premium packaging that can be reused for other storage.
· D'Moksha Homes and all our partners have a strict "no child labor" policy.

D'Moksha Cares

WITH EVERY PURCHASE A CONTRIBUTION IS MADE TO EDUCATE A GIRL CHILD.
In our unique and first-of-its-kind D'Moksha Cares program, each shopper is given an option to know the girl child towards whom her purchase is contributed. Details of the same are made available to you in the package delivered.
Zero Waste

Our zero waste policy means that the leftover fabric cuttings from our factory are sent over to women who can't step out of their homes for work. These women use the leftover fabrics to create placemats and doilies, thereby earning an income from home.