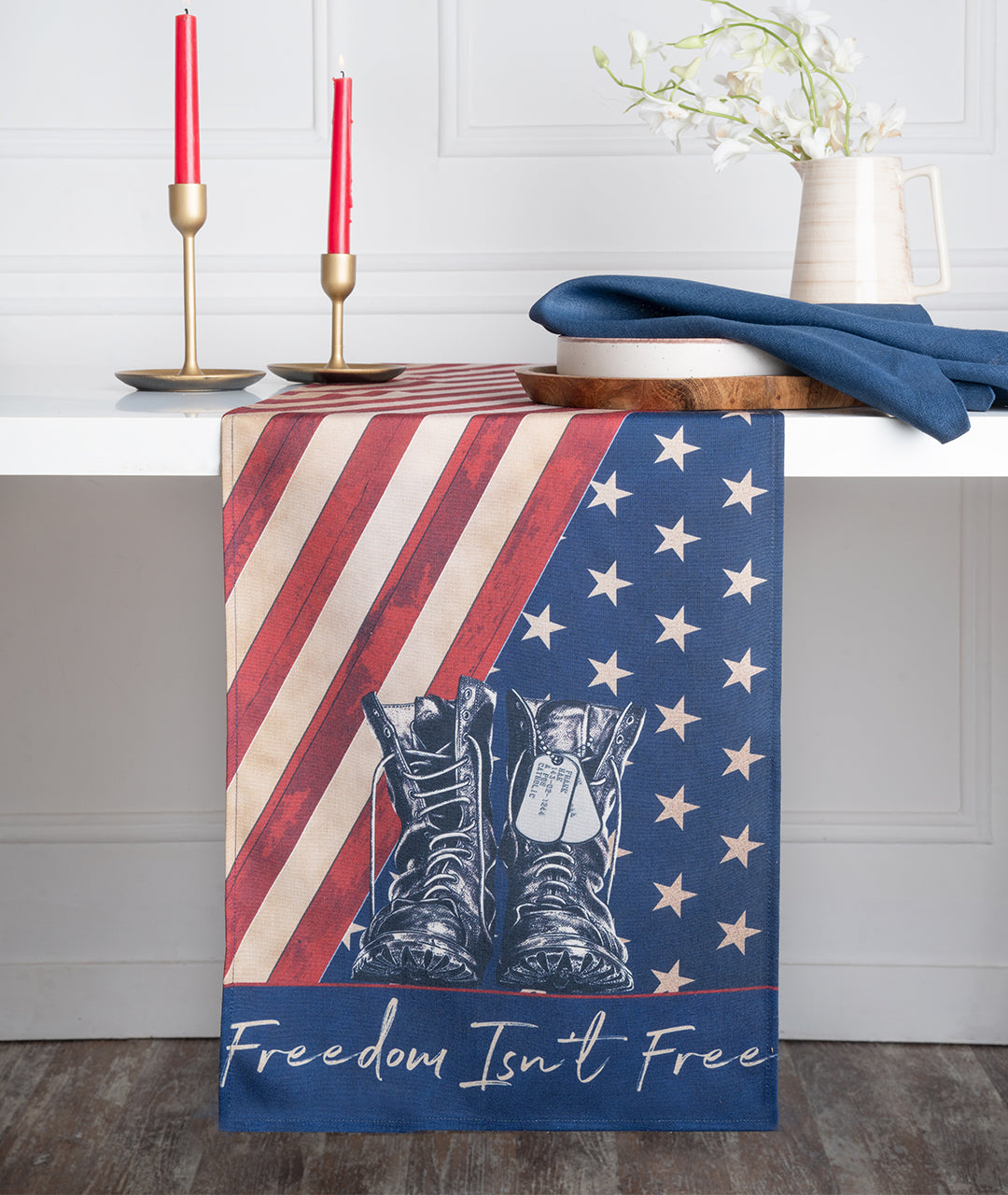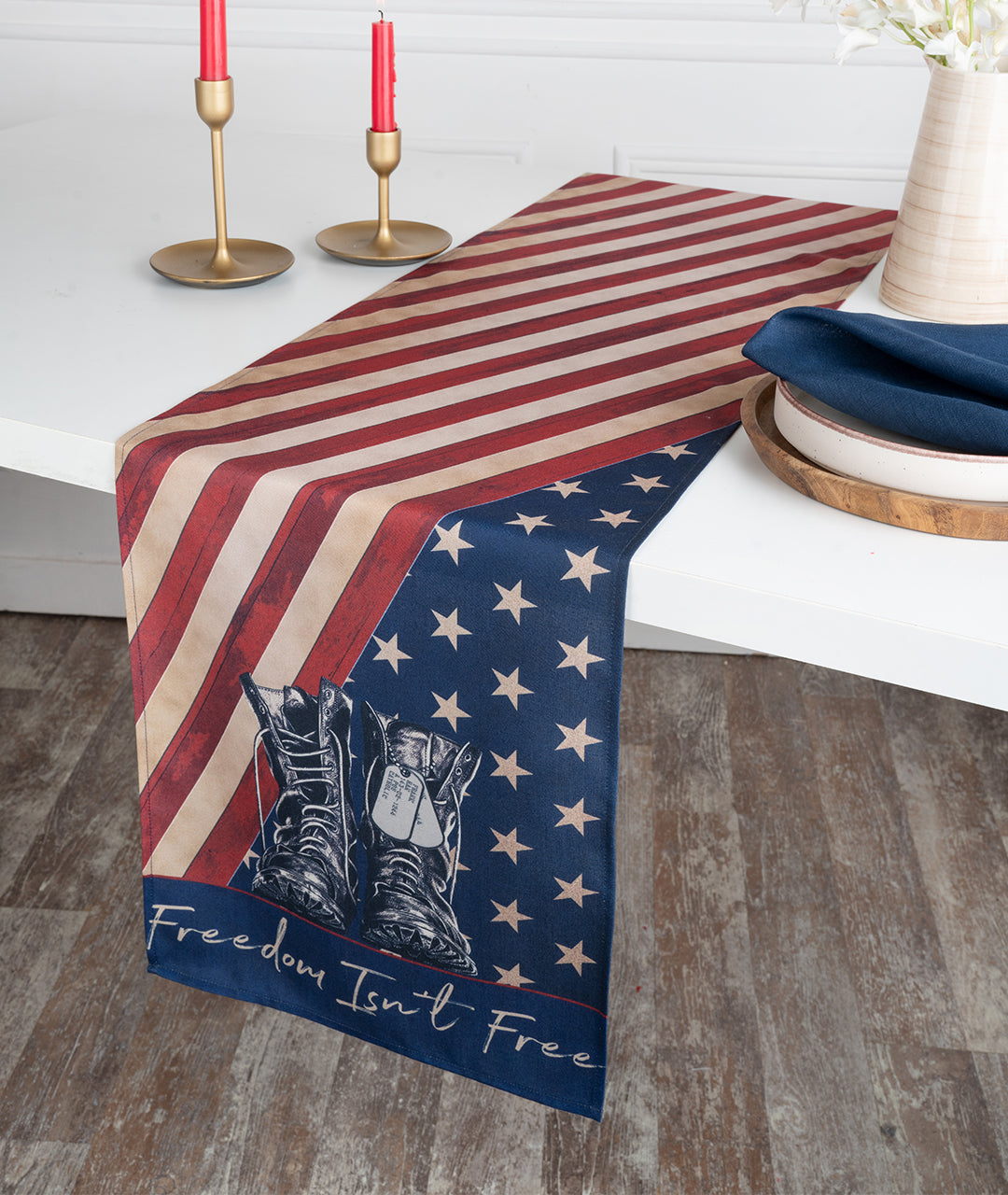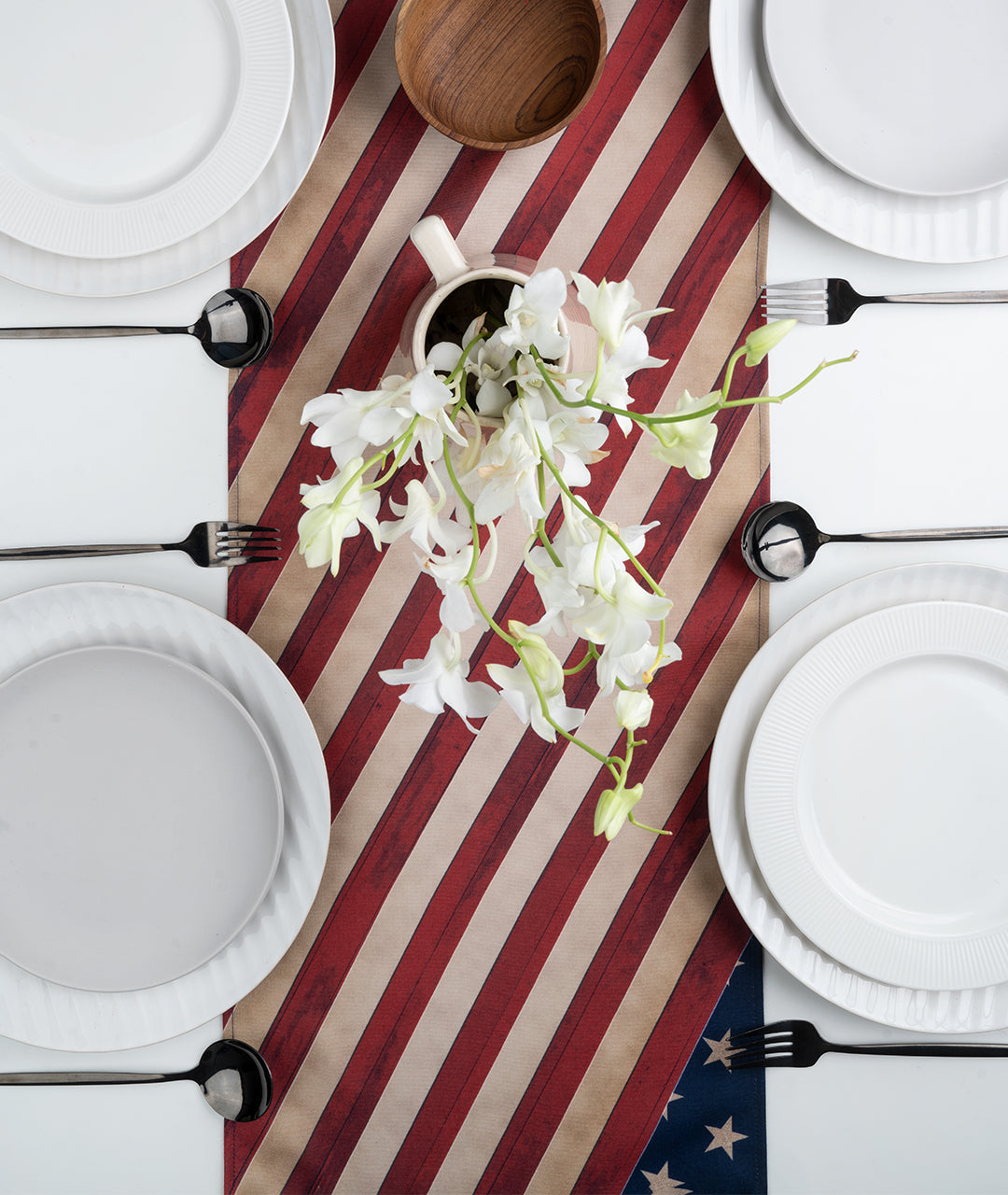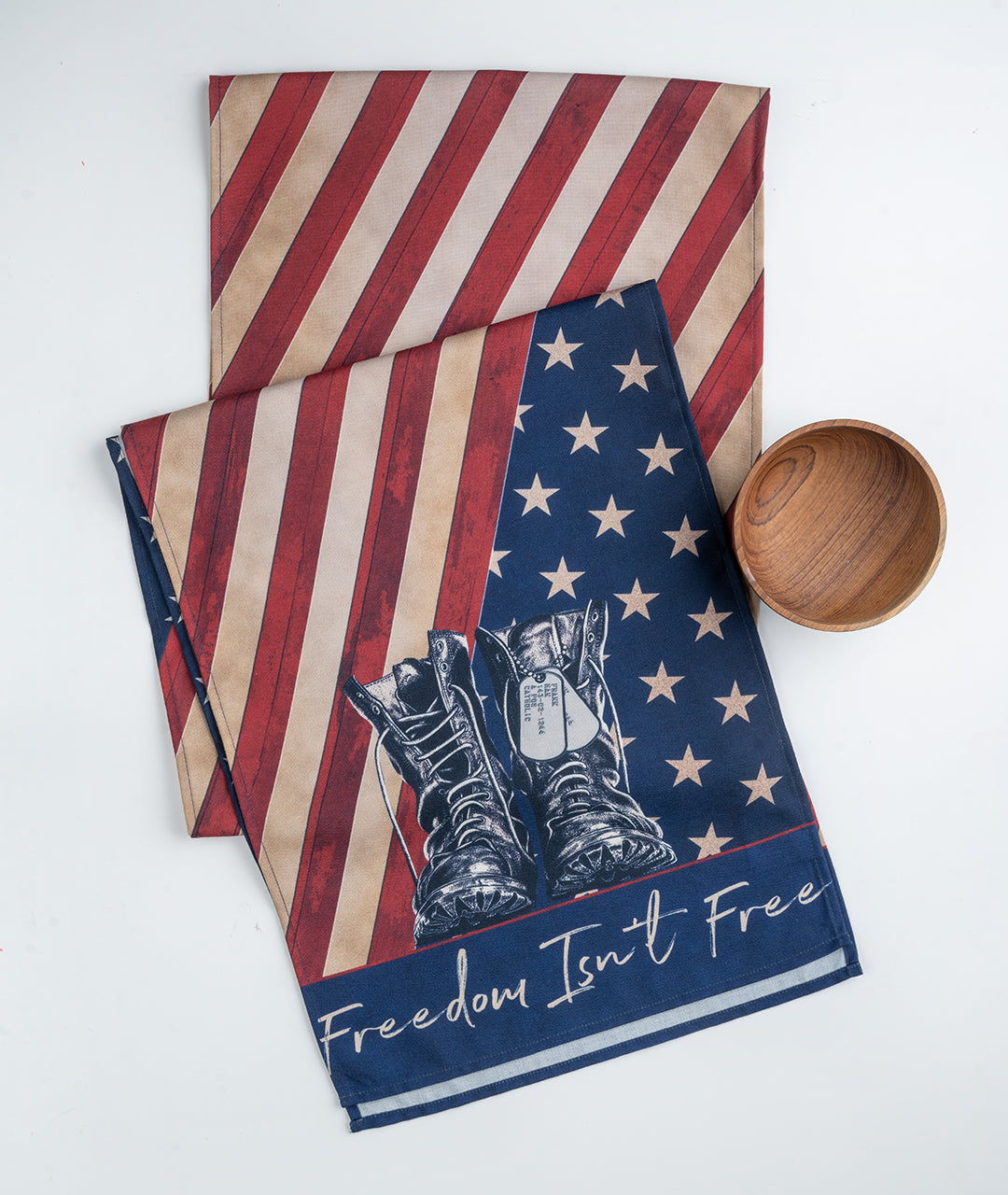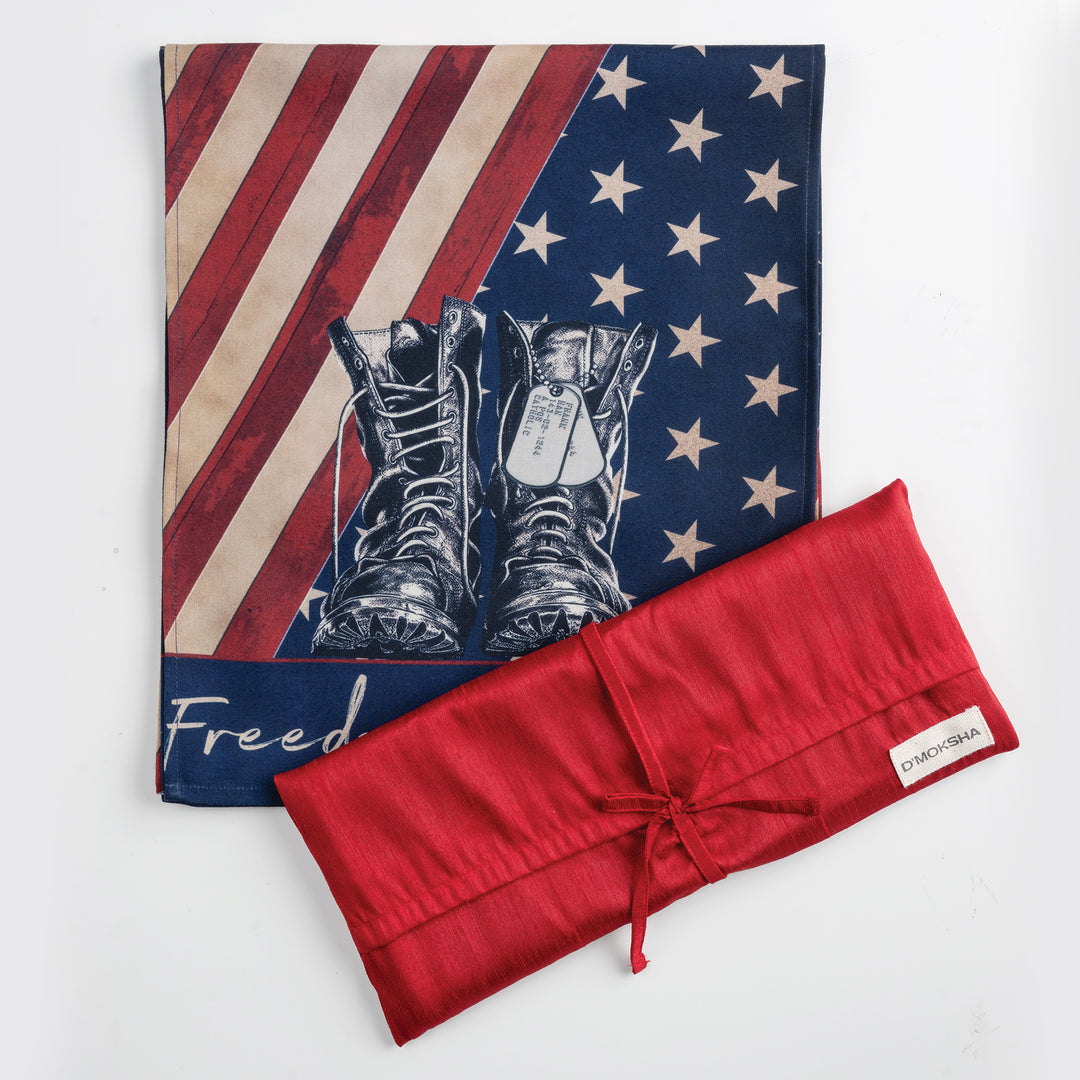 4th Of July Memorial Day Table Runner - Freedom Isn't Free, Recycled Polyester
About this item
100% Recycled Polyester

FESTIVE 4th JULY TABLE RUNNER: On 4th July let us get together to celebrate the spirit of Independence with D'Moksha eco-friendly table runner. These elegant table runners/dresser scarves are made from 100% recycled polyester adding the patriotic vibes to your house.

CELEBRATE AMERICA SUSTAINABLY: Be it the perfect festive brunch or holiday soiree, celebrate America sustainably by adorning your table with D'Moksha Recycled Polyester Table Runner. Made from 100% recycled polyester which is made from waste plastic bottles, reducing landfills, cleaning up the oceans and making the runner great for the planet great for America.

AVAILABLE IN VARIOUS PRINTS: Elevate your 4th of July tablescapes for Greener nation with beautiful eco-conscious D'Moksha table runners available in various festive prints and patriotic colors of Red, Blue and White.

SOFT LIKE COTTON, DURABILITY OF POLYESTER: The fabric combines the softness of cotton with the longevity and versatility of polyester. Wrinkle resistant (not to be mistaken for wrinkle free), easy to iron, medium weight, absorbent, these table runners are easy to wash and maintain..

GREAT GIFT CHOICE PACKAGED IN REUSABLE RED SILK LOOK BAGS: Gift your loved ones a blend of quality and sustainability with our 100% recycled table runners PACKAGED IN REUSABLE UTILITY BAGS. These utility bags come in premium silk like red color which can be reused.
Eco D'Moksha

Sustainability is at the heart of everything that we do at D'Moksha Homes. We use the most sustainable fabrics like linen, hemp, and lyocell that grow naturally. Greater use of these fabrics helps reduce the dependency on cotton and polyester, which are extremely water and chemical-intensive.
· Our weaving partners are primarily solar-powered, matching the global standards set by Bureau Veritas.
· We design premium packaging that can be reused for other storage.
· D'Moksha Homes and all our partners have a strict "no child labor" policy.

D'Moksha Cares

WITH EVERY PURCHASE A CONTRIBUTION IS MADE TO EDUCATE A GIRL CHILD.
In our unique and first-of-its-kind D'Moksha Cares program, each shopper is given an option to know the girl child towards whom her purchase is contributed. Details of the same are made available to you in the package delivered.
Zero Waste

Our zero waste policy means that the leftover fabric cuttings from our factory are sent over to women who can't step out of their homes for work. These women use the leftover fabrics to create placemats and doilies, thereby earning an income from home.