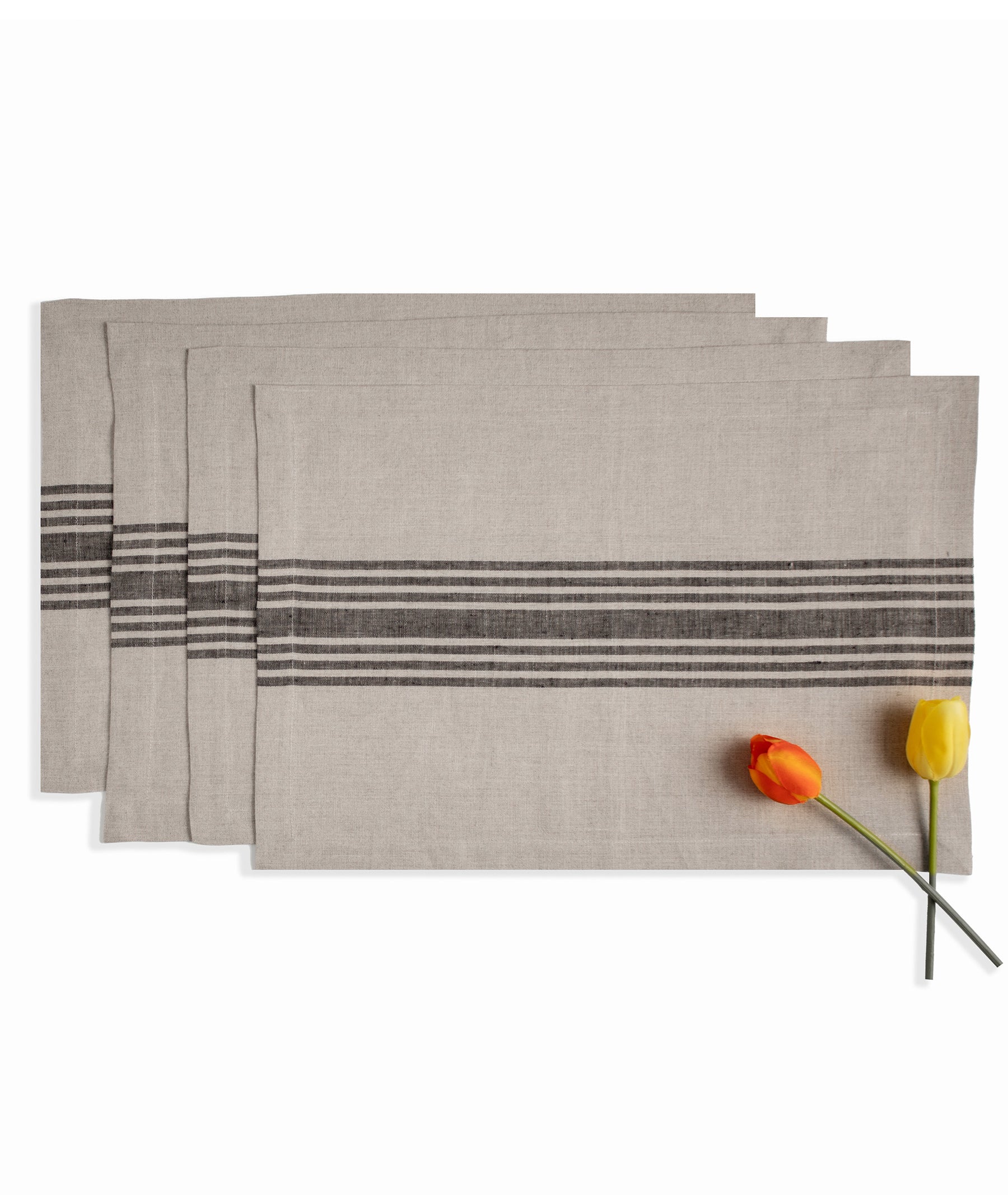 Farmhouse Linen Placemat - Natural and Black - Stripes
Our Farmhouse Collection of Table Runners, Dinner Napkins, and Placemats brings vintage charm touched by contemporary elegance. Handmade by skilled artisans using only the finest, certified European flax linen, this collection is a must-have for the discerning buyer. Perfect for special occasions or everyday dining, for indoor or outdoor use, for entertaining guests, or for a relaxed meal, the Farmhouse Collection is as versatile as it is classy.
Buy the complete set of Table Runners, Dinner Napkins, and Placemats, or combine them with a coordinated tablecloth for that flawless and elevated look. Our farmhouse runners also make for excellent and thoughtful gifts.
Slight variations are inherent in handcrafted products, making each creation unique and one-of-its-kind.
EASY CARE - Wash Separately. Machine washable in low temperature or cold water, gentle cycle. Hand wash for best results. No bleaching. Tumble dry on low heat or lay flat to dry. For best results iron when damp.
Eco D'Moksha

Sustainability is at the heart of everything that we do at D'Moksha Homes. We use the most sustainable fabrics like linen, hemp, and lyocell that grow naturally. Greater use of these fabrics helps reduce the dependency on cotton and polyester, which are extremely water and chemical-intensive.
· Our weaving partners are primarily solar-powered, matching the global standards set by Bureau Veritas.
· We design premium packaging that can be reused for other storage.
· D'Moksha Homes and all our partners have a strict "no child labor" policy.

D'Moksha Cares

WITH EVERY PURCHASE A CONTRIBUTION IS MADE TO EDUCATE A GIRL CHILD.
In our unique and first-of-its-kind D'Moksha Cares program, each shopper is given an option to know the girl child towards whom her purchase is contributed. Details of the same are made available to you in the package delivered.
Zero Waste

Our zero waste policy means that the leftover fabric cuttings from our factory are sent over to women who can't step out of their homes for work. These women use the leftover fabrics to create placemats and doilies, thereby earning an income from home.