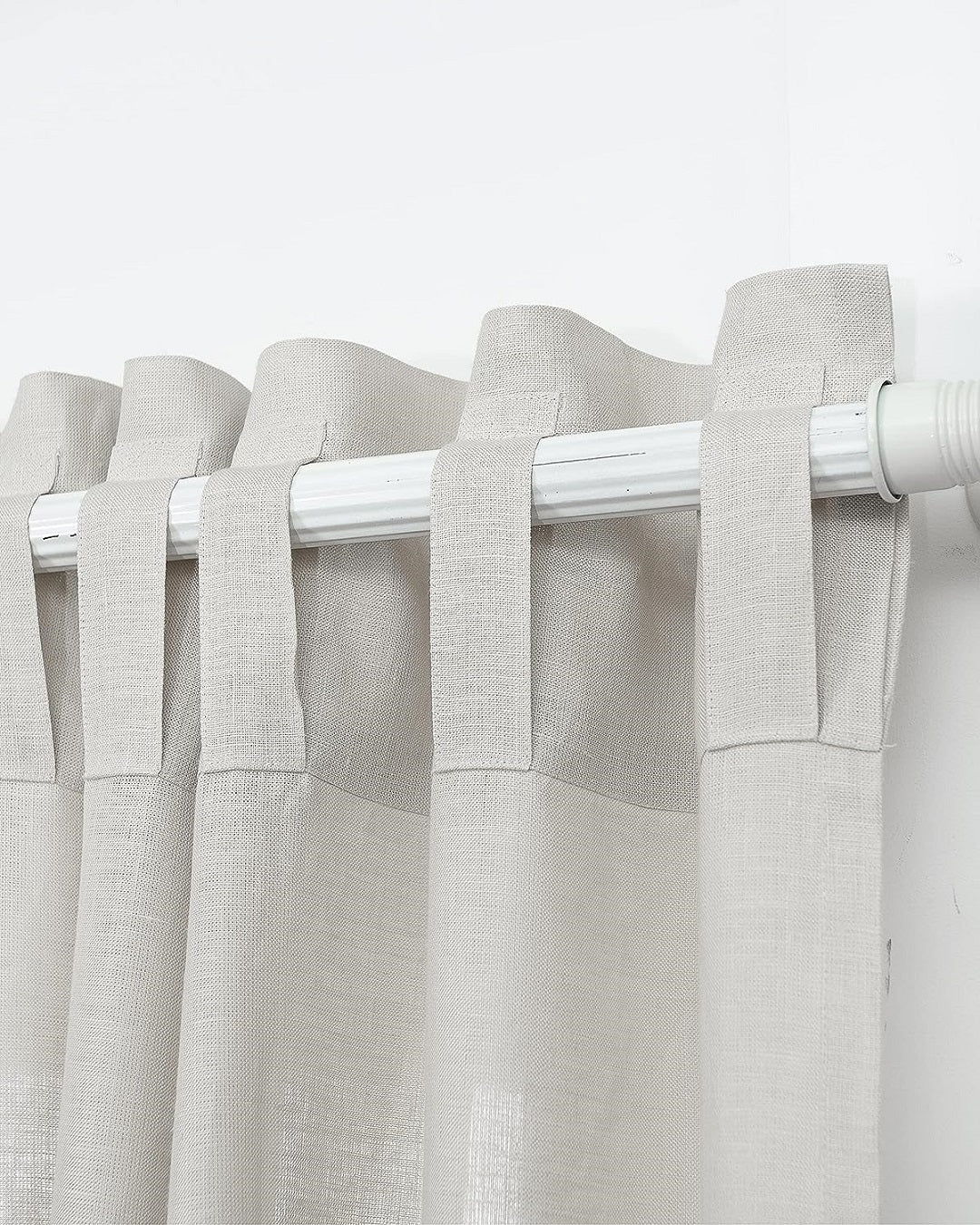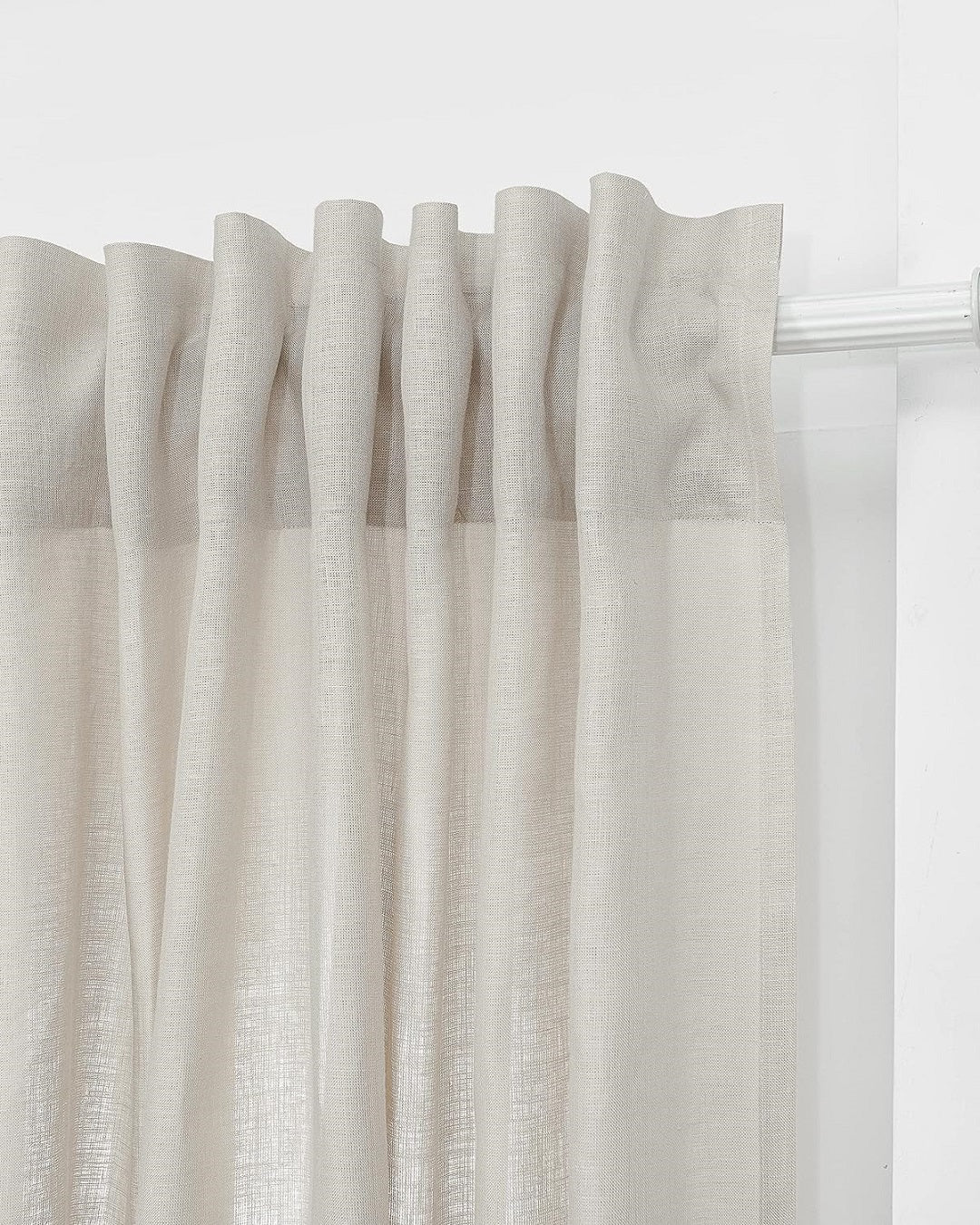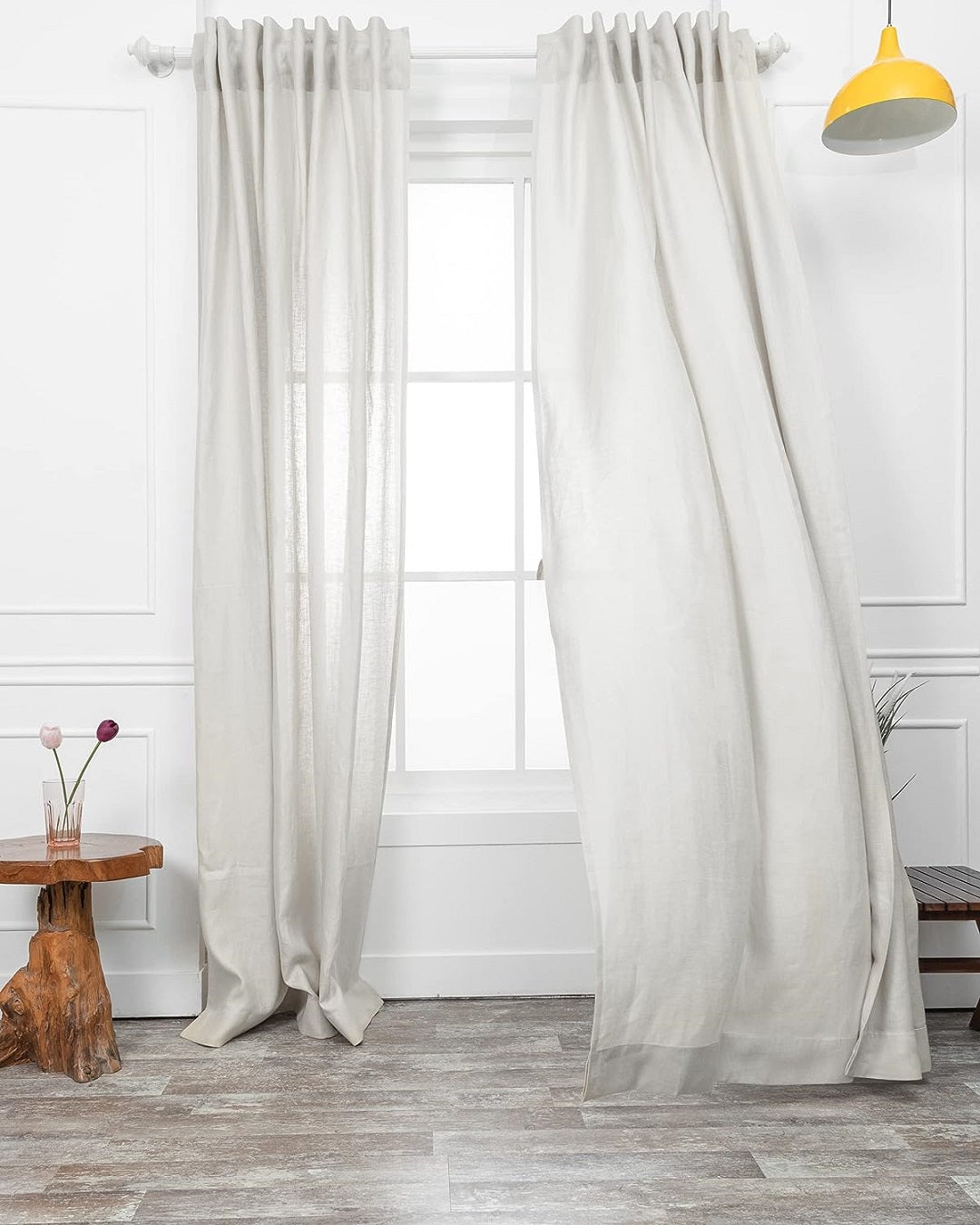 Cream Linen Rod Pocket Curtain, with Back Tab Hang - Handcrafted
HANDCRAFTED BY FINEST ARTISANS: Made from 100% pure hemp, our semi sheer curtains combine understated elegance with more than 95% protection from harmful UV rays. Extremely durable, our curtains show low color fading in the sun even after prolonged use. These curtains are crafted from the natural fabric Hemp, giving a classic natural effect the panels look aesthetic and drapes beautifully.

TWO DIFFERENT HANGING OPTIONS: A simple 3-inch rod pocket or seamless back loops for that impressive drape. Each semi sheer hemp curtain comes with a tie back loop which creates a tidy and chic look when the curtains are drawn open. One panel per box.

AIRY and BREATHABLE: One of the most eco-friendly and sustainable fabrics, hemp grows organically. It consumes very little water, improves soil quality, is used as a rotation crop to improve soil fertility. Once you use it, you will love this natural fabric as much as we do. These hanging semi sheer curtains have linen like texture with the beauty of slubs. They filter the dazzling sunlight and let the soft light in while these curtains still provide you privacy. Different sizes are available.

UNIQUE HOME DECOR: Since all our pieces are handcrafted, no two pieces are identical making every creation unique and one-of-its-kind. This means that every piece that you buy has its own special character and story. The linen design adds style and elegance to your room, provides a pretty soft and natural look to your windows, and makes your room have a more luxurious look.

EASY CARE: Machine washable for easy care and maintenance, use only non-chlorine bleach when needed, tumble dry low and warm iron as needed.
Eco D'Moksha

Sustainability is at the heart of everything that we do at D'Moksha Homes. We use the most sustainable fabrics like linen, hemp, and lyocell that grow naturally. Greater use of these fabrics helps reduce the dependency on cotton and polyester, which are extremely water and chemical-intensive.
· Our weaving partners are primarily solar-powered, matching the global standards set by Bureau Veritas.
· We design premium packaging that can be reused for other storage.
· D'Moksha Homes and all our partners have a strict "no child labor" policy.

D'Moksha Cares

WITH EVERY PURCHASE A CONTRIBUTION IS MADE TO EDUCATE A GIRL CHILD.
In our unique and first-of-its-kind D'Moksha Cares program, each shopper is given an option to know the girl child towards whom her purchase is contributed. Details of the same are made available to you in the package delivered.
Zero Waste

Our zero waste policy means that the leftover fabric cuttings from our factory are sent over to women who can't step out of their homes for work. These women use the leftover fabrics to create placemats and doilies, thereby earning an income from home.